Are Dek the best bowls shoe available? See our in-depth review to find out.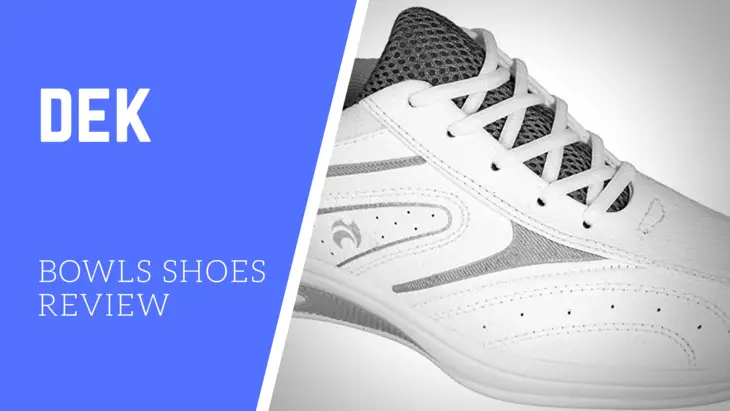 Overview: The Dek unisex bowls shoe are durable, and cost effective. They offer multiple colour and fastening choices, making them one of the most popular shoes on the market today
Price: £28.00
With the summer fast approaching I recently got my bowls gear out of storage, only to finds my shoes were falling apart. Finding a suitable replacement is now of top priority The shoes you wear never feels like a concern, at least not until you buy the wrong pair!
There's plenty of choice out there, but where to start? And where can I get the best value? During my research I came across the very popular Deks lace ups. Let's take a closer look and see what they're made of…
Durability
A great pair of bowls shoes need to be durable to contend with the miles of walking and bending during delivery.
The Deks fulfil this with their robust build quality, and leather uppers. Many customers mention just how good these are.
Choices
The Deks offers two sets of variations. Firstly you can choose between either white or grey, which are pretty standard and will comply with the rules for all clubs across the country.
Secondly, you have a choice between velcro straps, or lace ups. The strap option will come with two straps, one at the midfoot, and one slightly higher. Both will give you the flexibility on the fit you would like.
Spec and features
Synthetic Leather Uppers
Outer Material: Synthetic
Available in Lace up or Velcro Strap
Material Composition: Synthetic
Shoe Width: Regular
Choice of Grey or White
Customer Reviews
With so many options the Dek Unisex bowls shoes are extremely versatile to your preferences. I the time of writing I found 63 customer reviews with an average score of 4.5 out of 5.
The reviews are extremely positives, however some do experience some niggles. One customer raised "I did find the size a little on the large side, in hindsight would have gone a size smaller.". However not many raised the same problem.
Other than a slight sizing issue the others are glowing. One customer wrote "excellent fit and cannot fault them", whilst another said "Very pleased. Comfortable and stylish. Would recommend."
This makes it very easy for me to recommend these shoes.
In summary, the Dek bowls shoe are a great choice. Their durability means they can handle most things a bowler can throw at them. The vast majority of real customers were very pleased, and they would recommend them to others At this price point I doubt you'll find a better shoe.